Our Customers are medical professionals, such as surgeons, nurses and dietitians.
Our Sales Representatives (Reps) visit the hospitals and care houses to talk with professionals directly. Reps not only illustrate products features but also discuss to support the solution problems on nutrition management. Reps often train professionals in response to a demand.
In some cases, Reps collaborate with medical institutes to present at the congress of medical society.
In this way, solution and enlightenment at medical nutrition are important activity in our business.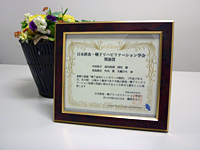 Collaboration study by FoodCare won the encouraging prize in JSDR!!
Our collaboration study, "the study of Hot Jelly for swallowing food", Mr.Takeuchi is common performer of this study, won the encouraging prize at medical congress in 11th Japan Dysphagia Rehabilitation Society because this study will contribute to development for rehabilitation of medical care. New Market, Jellied Porridge has been established in Japan by SUBERAKAZE which was developed based on this study.